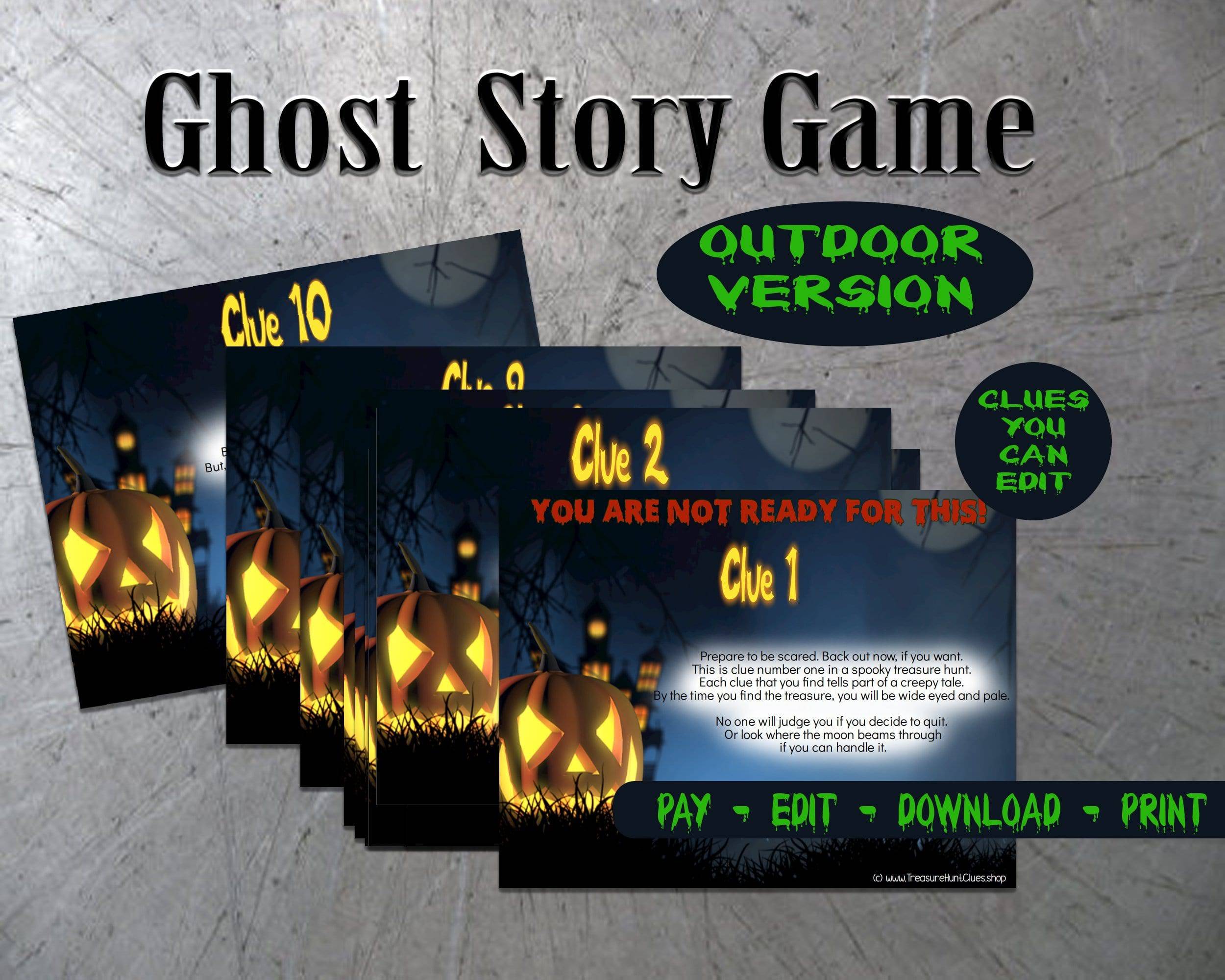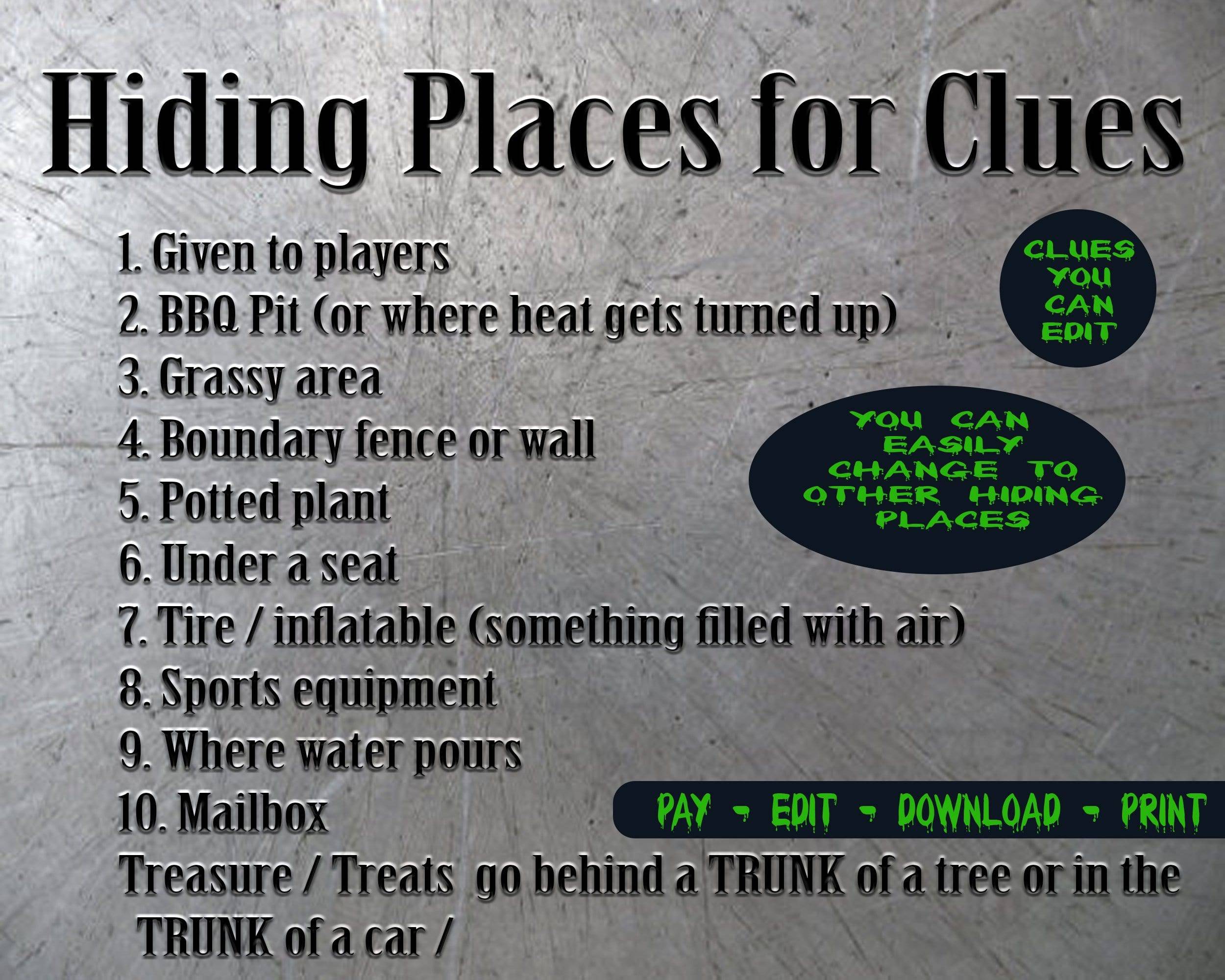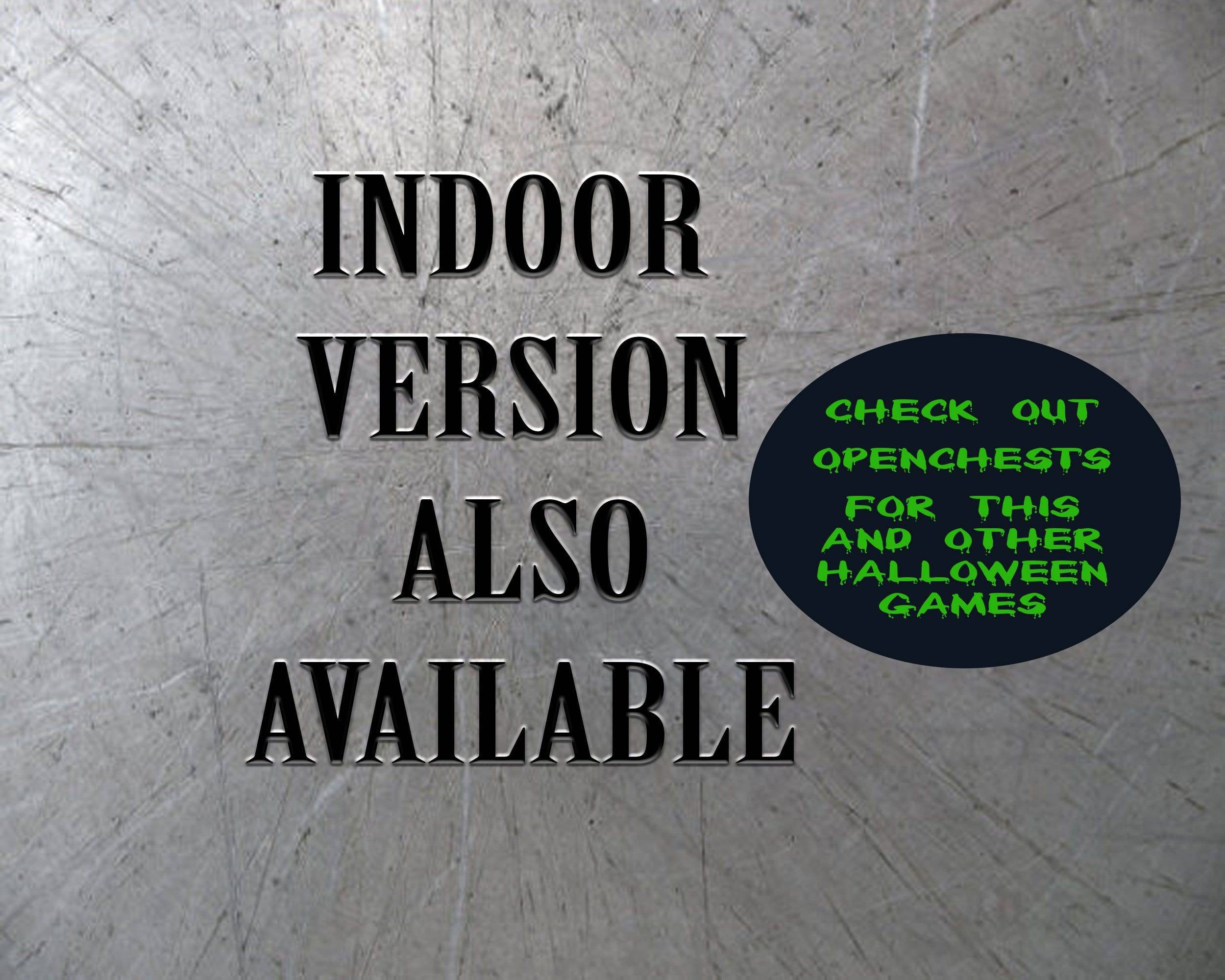 This scary Halloween Game is a Treasure Hunt that is created for use at home in your backyard or in the neighbourhood but can be used in any location because you get to edit the clues if you want.

It is a ghost story and treasure hunt - all in one. Each of the 10 rhyming clues tells part of a chilling tale. To hear the next part of the story the next clue must be found. Each clue leads to the next until all 10 clues and the treats have been found.

This game can take place in most homes using the standard clues or any location as you have the option to edit the hiding places for the clues. Check out the listing images for details.

▶ YOU WILL RECEIVE:
• An email from OpenChests.com with a 5 page PDF version of the clues for you to print.* These clues have the standard hiding places as per the images in this listing and there are 2 clues per letter-size page.
• Email from Corjl giving you access to the clues for you to personalise and edit if the hiding places don't suit your needs.
• Create as many sets of clues as you like for up to 30 days.

*No physical items will be shipped.

★CLICK HERE TO DEMO HOW EASY IT IS TO EDIT THE CLUES! ★

▶ PERSONALIZE IN JUST 3 STEPS:
1. After purchasing, you will receive an email from Corjl with a link to access and edit your item. You can also go directly to Corjl.com and use your order info to login and access your purchased items.
2. Personalize your items, then save.
3. Download your files and print.

▶ WHAT IS EDITABLE?:
• In this design: The second part of each clue, the riddle part, is editable via Corjl. The images are not.

▶ WHAT IS THE STORY?
One Halloween these kids had a terrible experience when they trick-or-treated at a house near here. A hooded figure answered the door and gave out treats to children all night long. Nobody saw his face but some noticed a strange ring on his finger. When the kids got home they opened their bags of treats to find small body parts mixed in with their candy. The police checked out the house the next day and found a decaying body slumped dead on the floor. There were small body parts missing and there was a strange ring on one finger.

▶ PRINTING:
• To print at home make sure your print settings are set to print letter-size (standard for home printers), single-sided.
• The color of the final printed product may vary slightly from what you see on your screen.

▶ PLEASE NOTE:
• Access to files and editing for 30 days from date of purchase
• For personal (non-commercial) use only.
• Please do not share, forward or redistribute in any capacity.
• Not for resale.
• All sales are final due to the nature of the product.
---
OUTDOOR Halloween Treasure Hunt Clues - Ghost Story
Super fun spooky treasure hunt for my daug...
Super fun spooky treasure hunt for my daughter's 11th birthday party! The kids had an absolute blast and it was easy to edit!
Awesome looking pictures when printed. Use...
Awesome looking pictures when printed. Used the story that came with the pack for my 10yr olds' hunt, and used the edit feature to change up the clues for my 8yr old so she'd have a different hunt. Very easy to use the edit feature. Kids loved the hunt and story- asked to do this again instead of trick or treat next year!
So excited to use these this season!
So excited to use these this season!
A gift for my long distance grandkids!
A gift for my long distance grandkids!
It was as describes. Will be using it for...
It was as describes. Will be using it for grandkids on Halloween
Delivery & Customization

Email delivery

Once your payment has been processed, you will receive PDFs of everything you need via automatic email. No shipment delays!

You can customize on Corjl.com

For no extra cost, you can also edit the templates on Corjl.com. Once your payment has been cleared, you will receive a second email from Corjl.com inviting you to edit the clues/map template you purchased.

Each kit has a link to an editing demo that you can try out before you place your order.
FAQ

How long to I have to edit the templates on Corjl.com?

To prevent the designs from being exploited for commercial use, there is a 30-day expiry on the templates on Corjl.com. Please reach out if you need more time.

How many different sets of clues or maps can I create and download in Corjl.com?

For maps, you can create and download as many different maps as you wish within the 30 day window. For clues, you can customize and download 4 times. Again, reach out if you need more downloads. It's just put in place to prevent the bad guys!

Do you offer a print and ship service?

I am currently not offering this service. If you purchase you will receive the printable kits as PDFs via automatic email. You can then print at home or bring the file to a professional print service.

Can you customize the kits for me?

If you have an idea for a theme, then let me know and depending on my workload, I might take on the project.

If you are trying to customize on Corjl.com and feel stuck or overwhelmed, please get in touch, and I'll try to help - most people find the editing process fairly easy.
About Me

About OpenChests.com

Click here to learn more about OpenChests

About Me