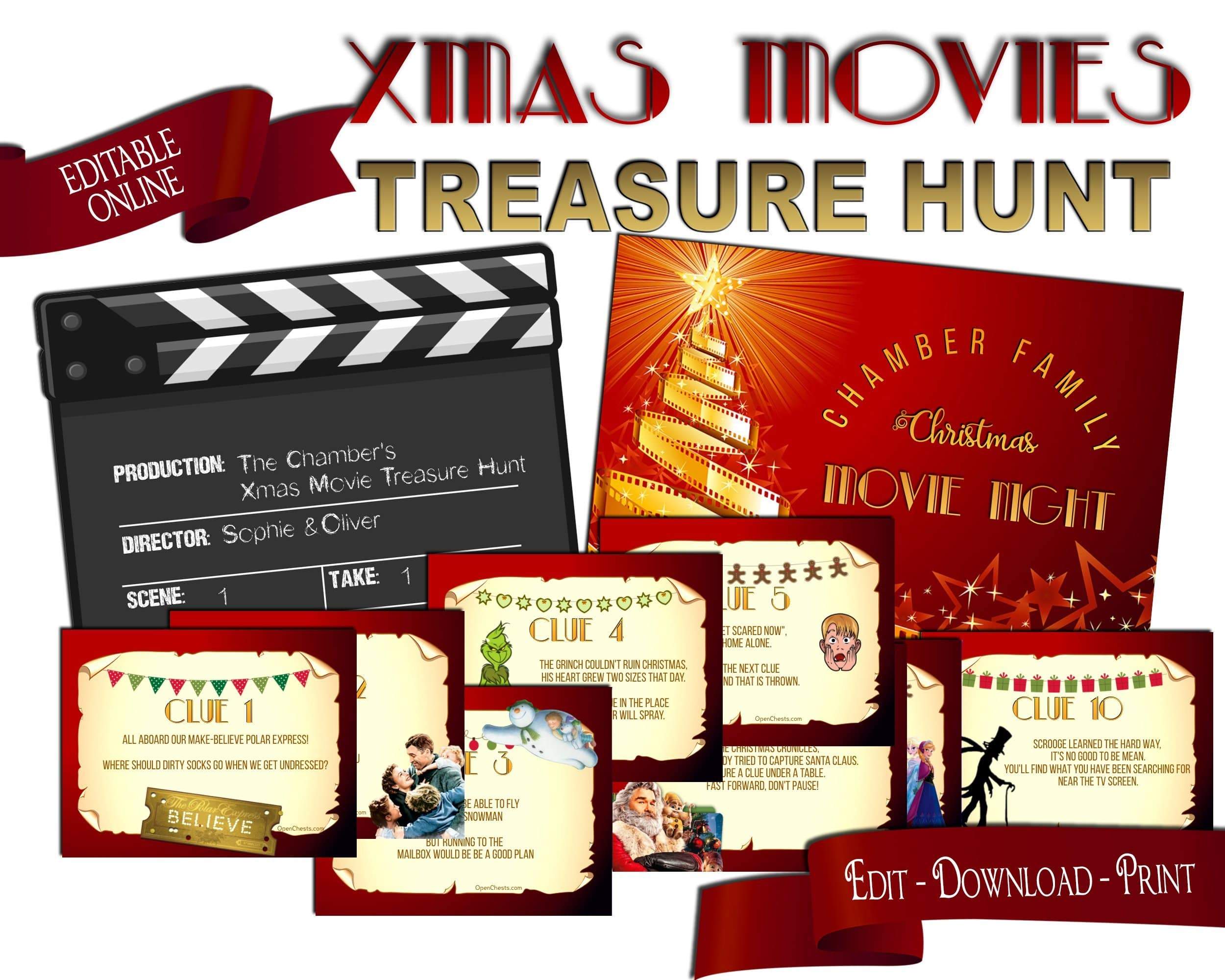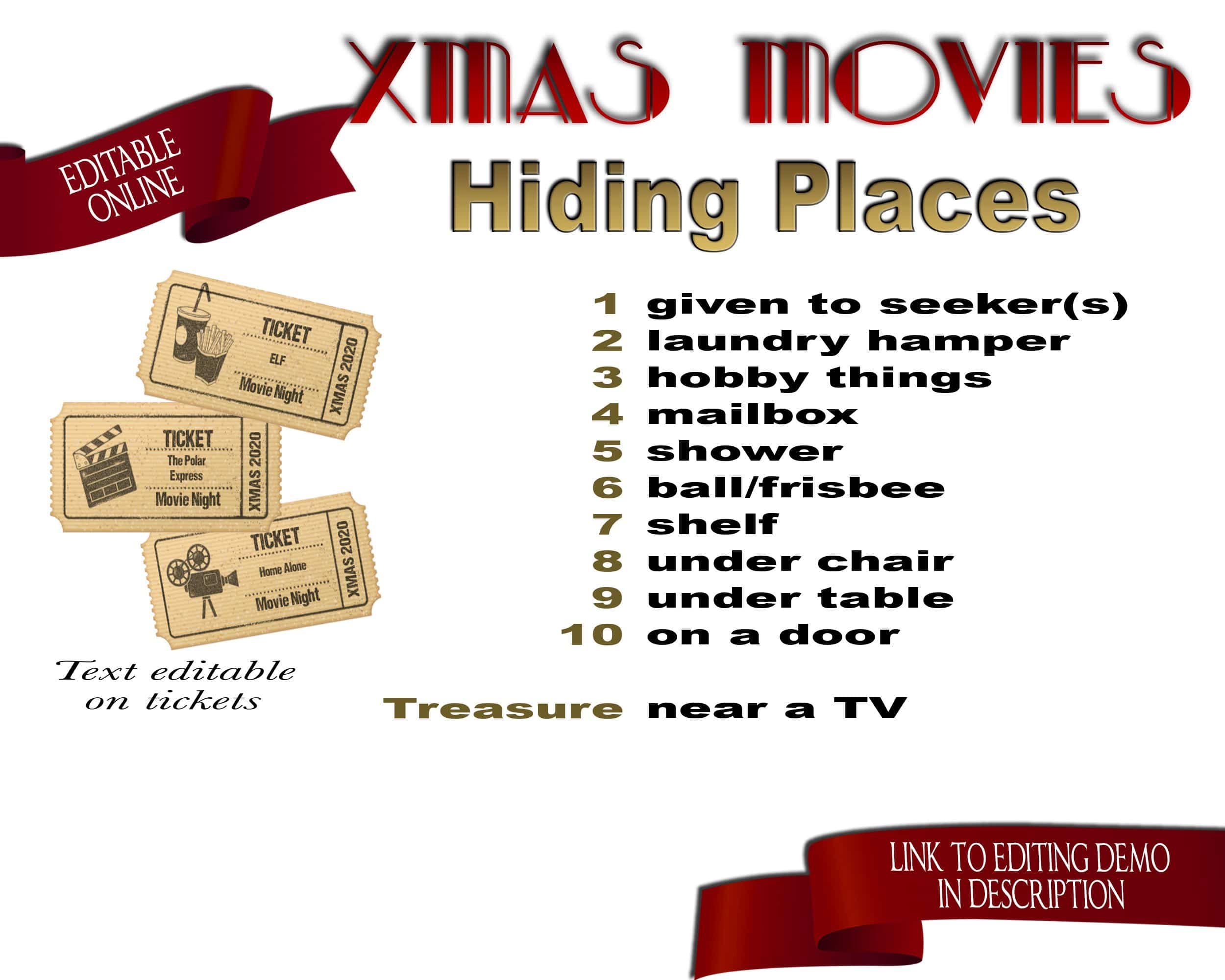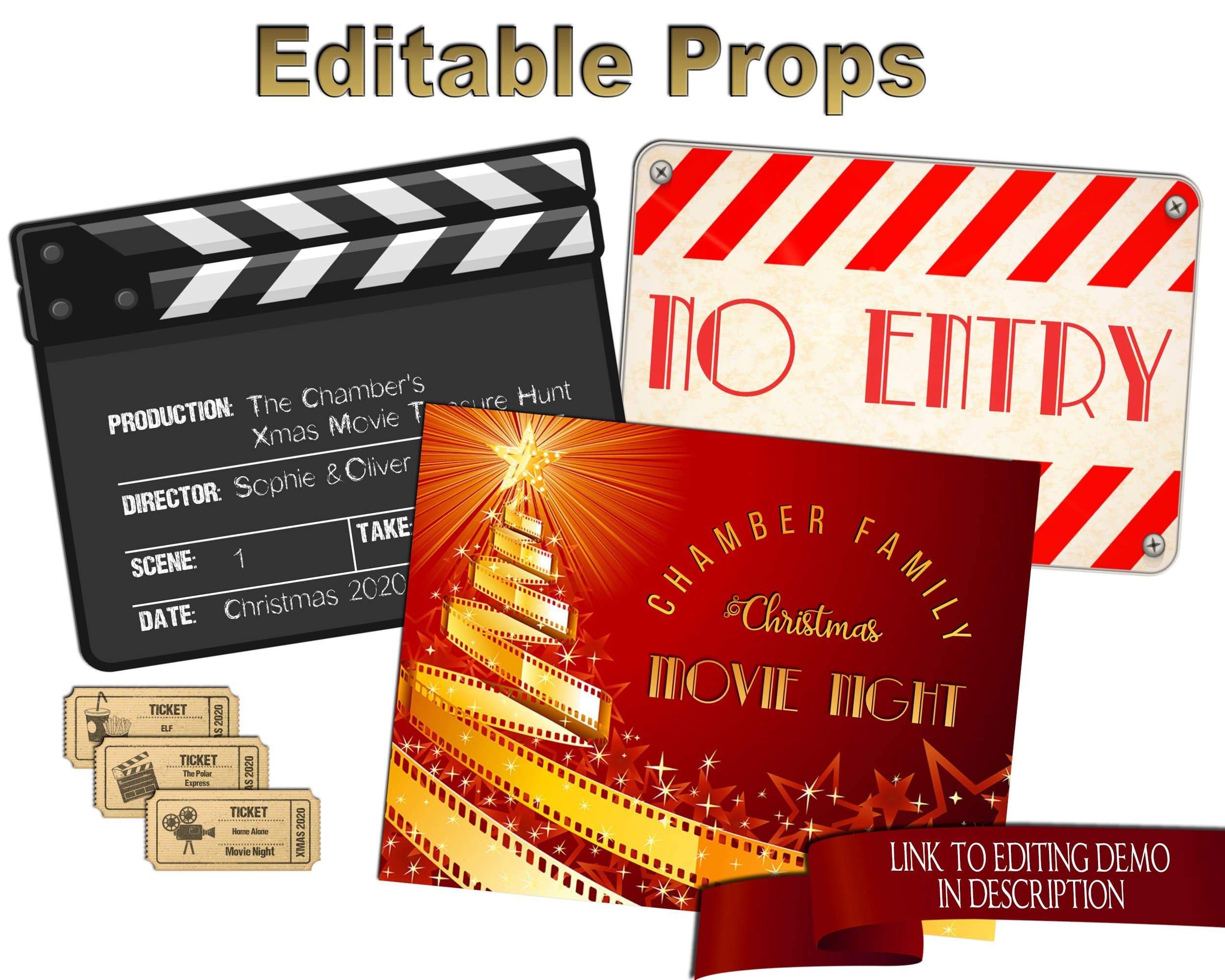 Christmas Movies play a big part in creating Christmas memories and this year more than ever, the Christmas Movie Night will play a central part in keeping things fun and festive. This Printable Kit has everything you need to organise a fun Family Activity, a Movie Screening Party experience or the perfect Date Night memory.
⏳ Gameplay: 30mins, depending on the age of the hunter and how devious you are with the hiding places.
🌶 Difficulty: The clues are fun Christmas Movie themed rhyming riddles. They are engaging but not difficult.
🧒 Age: 4 - 99 (younger players may need help reading the clues)
👥 Number of players: 1-5 working as a team
📍 Location: A home - but you can edit for use in other locations
📧 Delivery: Automatic Email. Please check the email address on your Etsy account is correct and if paying via ApplePay please send me a message with your email address.
💻 Ease of Editing: Yes! you can edit these clues online using your free Corjl.com invite and the text riddles are very easy to edit. Check out the demo to see what you think...
★ TRY BEFORE YOU BUY! ★
To see how easy editing is just copy & paste this link into your browser:
https://www.corjl.com/d/1HKBH8
This Christmas Movie themed, riddle treasure hunt consists of ten rhyming riddles and gives you lots of options; You can go for the quick-setup generic version of the clues, you can edit the clues to better suit your needs or you can create your own clues.
In addition to receiving the 10 generic text clues and the tickets, goodie box label, clapper and 'no entry' sign as PDFs directly to your inbox, you also get access, via Corjl.com, to customise the treasure hunt clues and propers yourself online. No software downloads. No waiting for proofs.
The seeker is given the first clue which, when solved, will lead them to the second clue, which leads to clue three and so on until they have made a snowman from clues and reach the treasure at the end.
▶ YOU WILL RECEIVE:
• An email from OpenChests with a PDF version of the text clues for you to print. This PDF also includes a handy hiding place reference - so you know where to hide each clue. You will also receive generic versions of the props
• The clues have the standard hiding places as per the images in this listing.
• A second email from Corjl.com giving you access to the clues and prop templates for you to personalise and edit to your needs.
• Once you are happy with your edits you download the PDF files and print, either using a home printer or using a print-shop.
• Create up to 4 sets of clues for up to 30 days.
*No physical items will be shipped.
▶ PERSONALIZE IN JUST 3 STEPS:
1. After purchasing, you will receive an email from Corjl with a link to access and edit your item. You can also go directly to Corjl.com and use your order info to login and access your purchased items.
2. Personalize your items, then save.
3. Download your files and print.
▶ PRINTING:
• To print at home make sure your print settings are set to print letter-size (standard for home printers), single-sided. A4 works fine too.
• The color of the final printed product may vary slightly from what you see on your screen.
▶ PLEASE NOTE:
• Access to files and editing for 30 days from date of purchase
• For personal (non-commercial) use only.
• Please do not share, forward or redistribute in any capacity.
• Not for resale.
• All sales are final due to the nature of the product.
Also in my shop, OpenChests.com I have Treasure Maps and Scavenger Hunt lists.
---
Christmas Movie Night Kit. Treasure Hunt with Editable Props
Used this to drag out Christmas morning a...
Used this to drag out Christmas morning a little. My sons 18, 16, and 14 found the clues easy enough but had a lot of fun running around the house. Arrived to my inbox immediately and was easy to edit
Delivery & Customization

Email delivery

Once your payment has been processed, you will receive PDFs of everything you need via automatic email. No shipment delays!

You can customize on Corjl.com

For no extra cost, you can also edit the templates on Corjl.com. Once your payment has been cleared, you will receive a second email from Corjl.com inviting you to edit the clues/map template you purchased.

Each kit has a link to an editing demo that you can try out before you place your order.
FAQ

How long to I have to edit the templates on Corjl.com?

To prevent the designs from being exploited for commercial use, there is a 30-day expiry on the templates on Corjl.com. Please reach out if you need more time.

How many different sets of clues or maps can I create and download in Corjl.com?

For maps, you can create and download as many different maps as you wish within the 30 day window. For clues, you can customize and download 4 times. Again, reach out if you need more downloads. It's just put in place to prevent the bad guys!

Do you offer a print and ship service?

I am currently not offering this service. If you purchase you will receive the printable kits as PDFs via automatic email. You can then print at home or bring the file to a professional print service.

Can you customize the kits for me?

If you have an idea for a theme, then let me know and depending on my workload, I might take on the project.

If you are trying to customize on Corjl.com and feel stuck or overwhelmed, please get in touch, and I'll try to help - most people find the editing process fairly easy.
About Me

About OpenChests.com

Click here to learn more about OpenChests

About Me