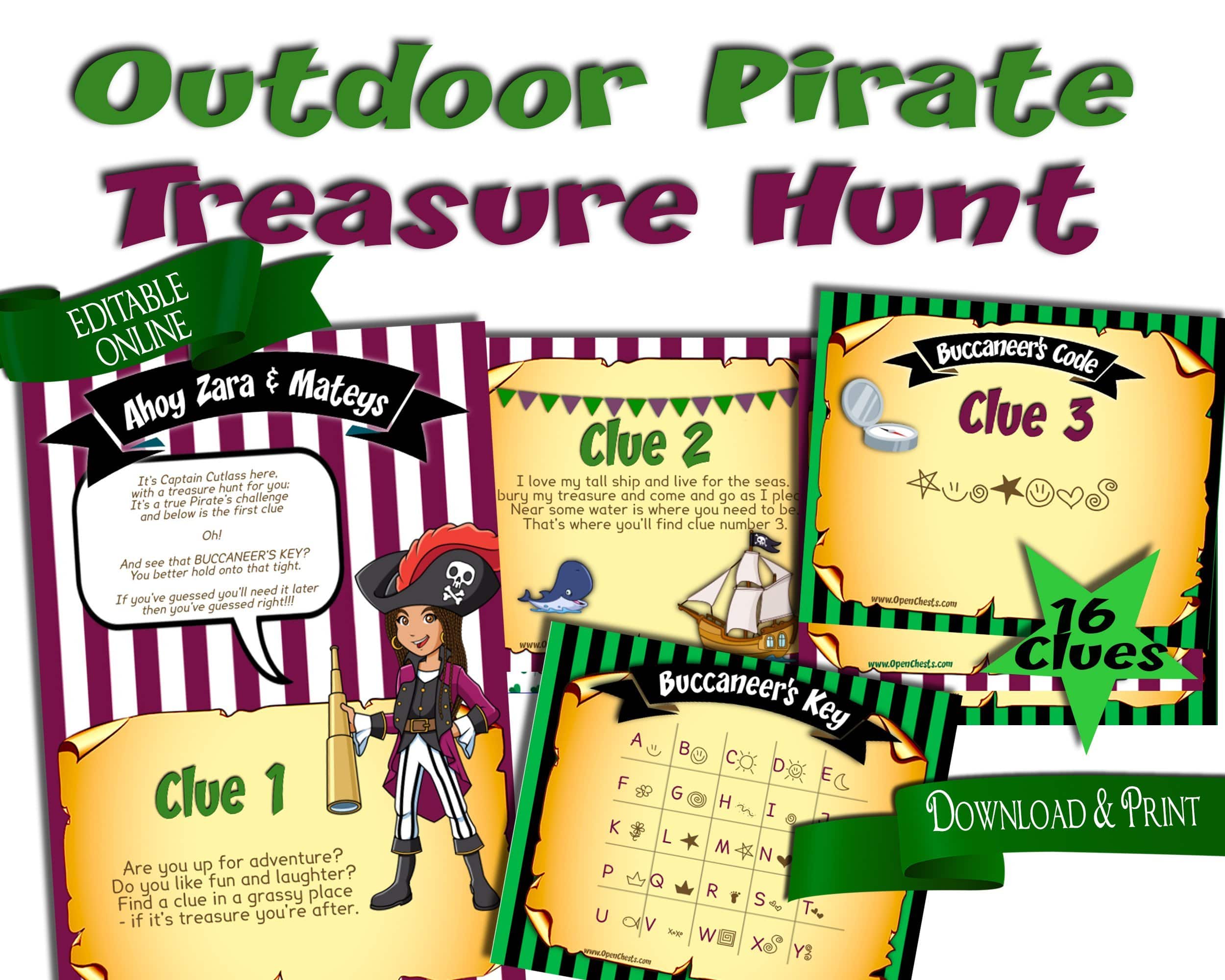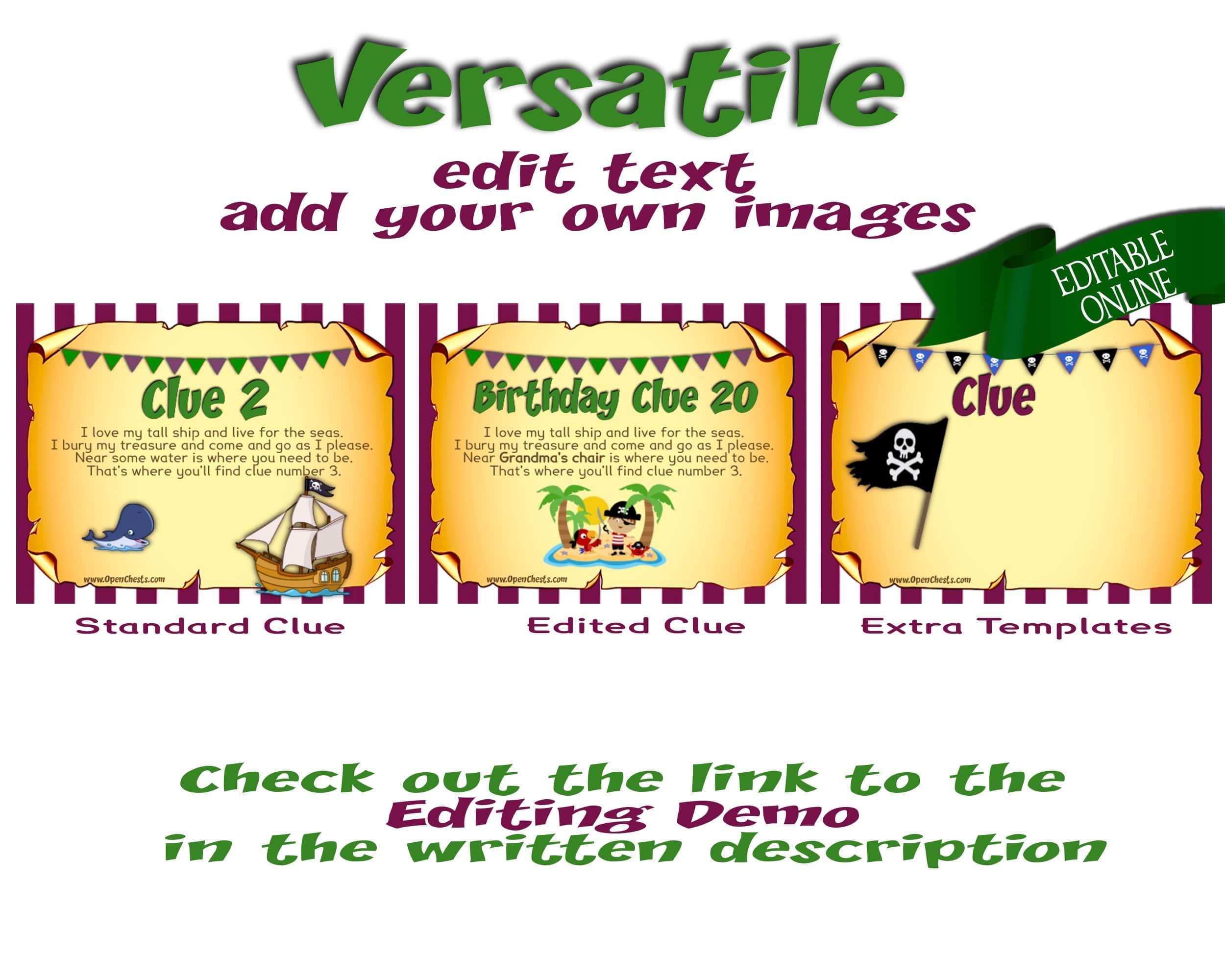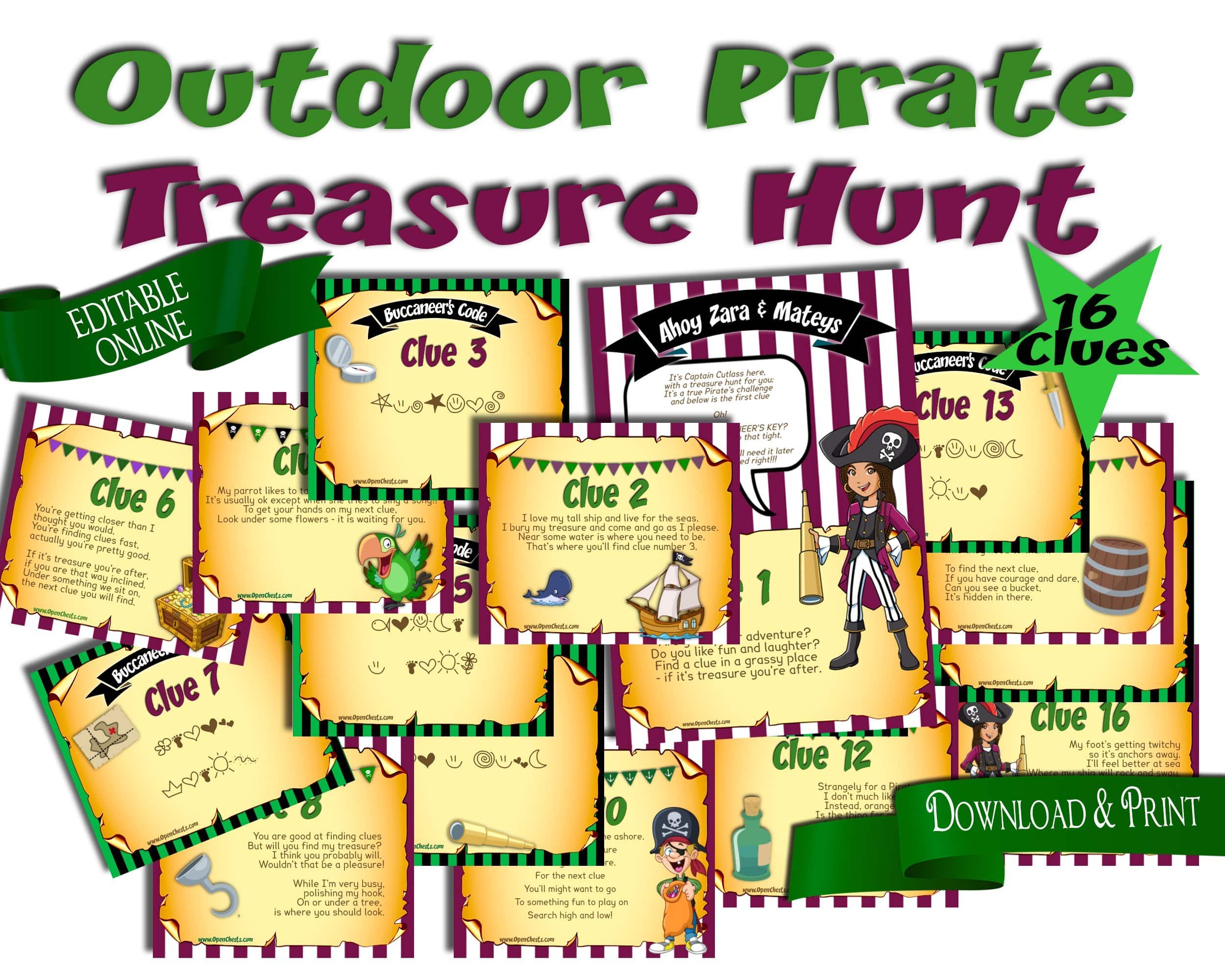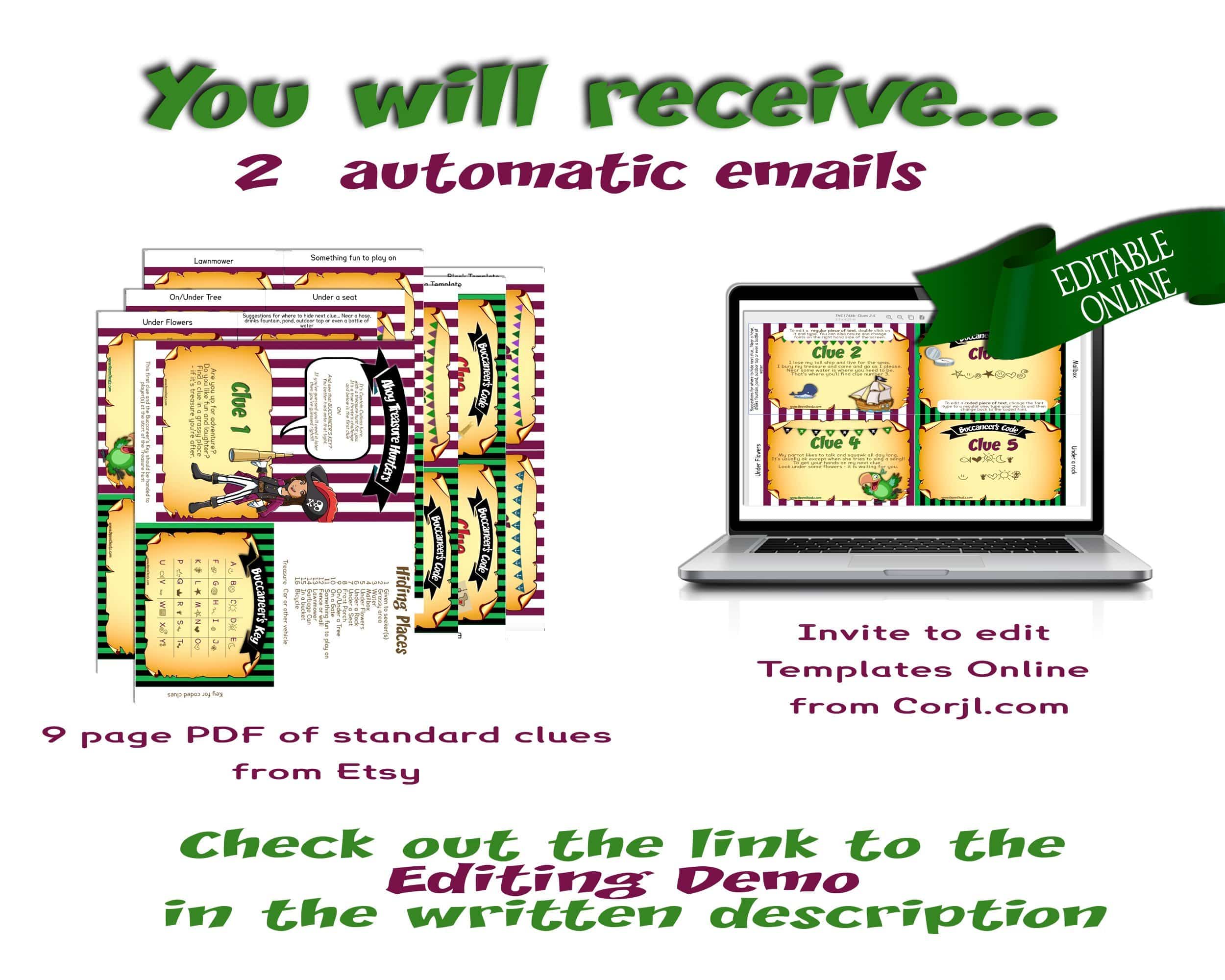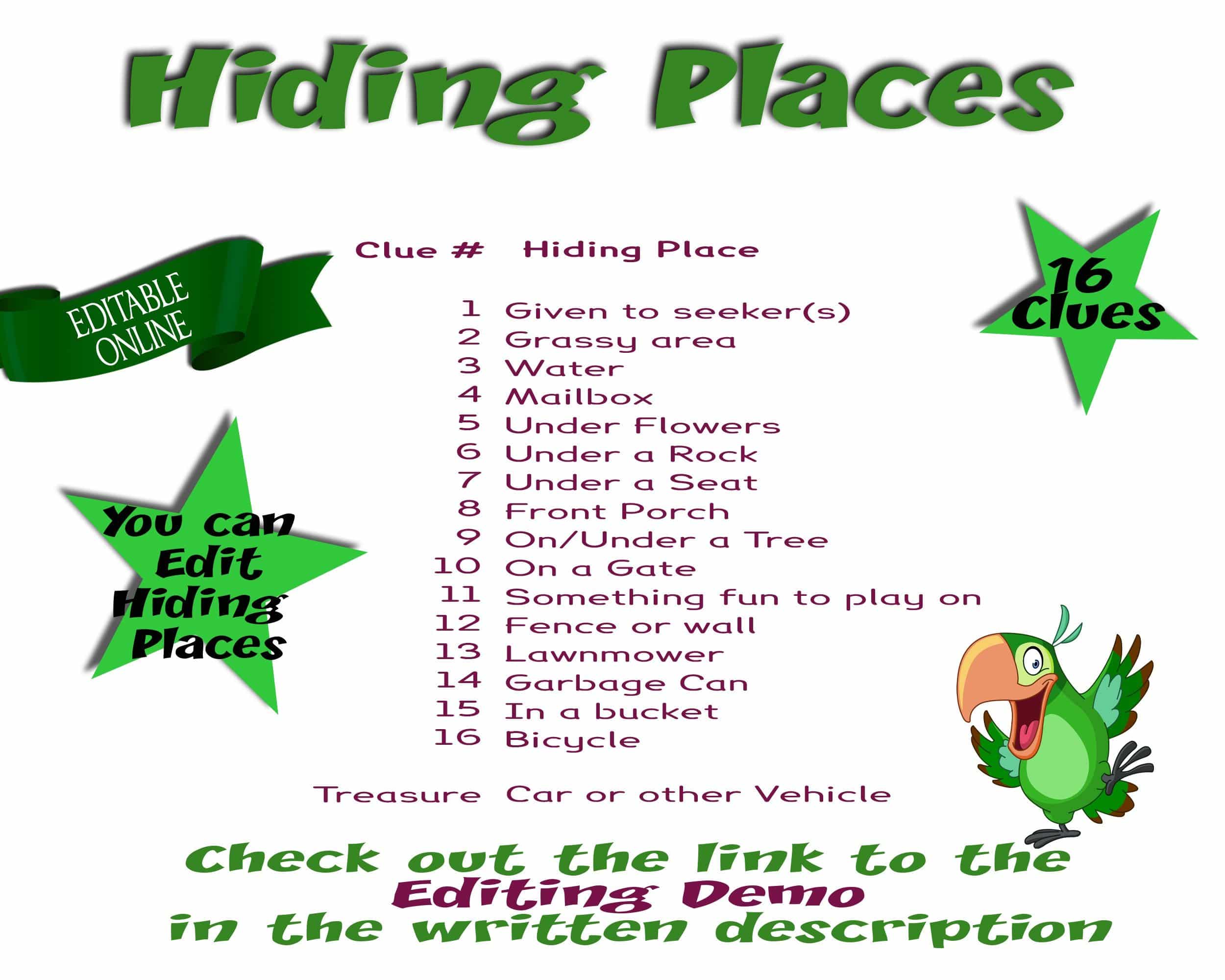 These outdoor Pirate Treasure Hunt Clues will be a hit with any cool girls in your life! Captain Cutlass has left funny riddles and simple code-breaker clues to her loot, with hiding places that will fit most backyard and outside the home locations. You also get black templates for you to handwrite your own clues and... you get access to edit the templates online so you can personalise and customise as much as you wish.
This fun game is the perfect outdoor activity to create happy memories for Birthdays, playdates or perhaps during a barbeque with family and friends.
The seeker is given the first clue which, when solved, will lead them to the second clue, which leads to clue three and so on until the players have found all the clues and reach the treasure at the end.
⏳ Gameplay: 40min approx, depending on how devious you are with the hiding places.
🌶 Difficulty: Easy. This is meant to be a fun activity and not a particularly challenging one
🧒 Age: Age 7+ (approx)
👥 Number of players: 1-5
📍 Location: A typical backyard - but you can edit for use in other locations
📧 Delivery: Automatic Email straight to your inbox
💻 Ease of Editing: Yes! you can edit these clues online using your free Corjl.com invite. Check out the demo to see what you think before you buy...
This fun kids treasure hunt consists of 16 clues - both rhyming riddles and simple code-breaker clues and it gives you options; You can go for the quick-setup generic version of the clues - just download, print and cut out the clues; You can edit as many clues as you wish using your free Corjl.com access to make it a more personalised activity. Or, on Corjl.com, you can get really creative and can use the extra templates and extend your treasure hunt if you wish - you can even edit the coded clues. No software downloads. No waiting for proofs.
▶ YOU WILL RECEIVE:
• An email from Etsy with a PDF version of the text clues. This PDF also includes a handy hiding place reference - so you know where to hide each clue.
• These clues have the standard hiding places as per the images in this listing.
• A second email from Corjl.com giving you access to the clues for you to personalise and edit to your needs.
• You will also have access to blank clue templates, Special start and ending keepsake messages that you can edit. Once you are happy with your edits you download the PDF files and print, either using a home printer or using a print-shop.
• Create up to 4 sets of clues for up to 30 days.
*No physical items will be shipped.
▶ PERSONALIZE IN JUST 3 STEPS:
1. After purchasing, you will receive an email from Corjl with a link to access and edit your item. You can also go directly to Corjl.com and use your order info to login and access your purchased items.
2. Personalize your items, then save.
3. Download your files and print.
▶ PRINTING:
• To print at home make sure your print settings are set to print letter-size (standard for home printers), single-sided. A4 works fine too.
• The color of the final printed product may vary slightly from what you see on your screen.
▶ PLEASE NOTE:
• Access to files and editing for 30 days from date of purchase
• For personal (non-commercial) use only.
• Please do not share, forward or redistribute in any capacity.
• Not for resale.
• All sales are final due to the nature of the product.
---
Outdoor Pirate Treasure Hunt for Cool Girls
Delivery & Customization

Email delivery

Once your payment has been processed, you will receive PDFs of everything you need via automatic email. No shipment delays!

You can customize on Corjl.com

For no extra cost, you can also edit the templates on Corjl.com. Once your payment has been cleared, you will receive a second email from Corjl.com inviting you to edit the clues/map template you purchased.

Each kit has a link to an editing demo that you can try out before you place your order.
FAQ

How long to I have to edit the templates on Corjl.com?

To prevent the designs from being exploited for commercial use, there is a 30-day expiry on the templates on Corjl.com. Please reach out if you need more time.

How many different sets of clues or maps can I create and download in Corjl.com?

For maps, you can create and download as many different maps as you wish within the 30 day window. For clues, you can customize and download 4 times. Again, reach out if you need more downloads. It's just put in place to prevent the bad guys!

Do you offer a print and ship service?

I am currently not offering this service. If you purchase you will receive the printable kits as PDFs via automatic email. You can then print at home or bring the file to a professional print service.

Can you customize the kits for me?

If you have an idea for a theme, then let me know and depending on my workload, I might take on the project.

If you are trying to customize on Corjl.com and feel stuck or overwhelmed, please get in touch, and I'll try to help - most people find the editing process fairly easy.
About Me

About OpenChests.com

Click here to learn more about OpenChests

About Me